Raritan Stamps, Inc.


International Philatelic Auction House.
We are holding quarterly Live Bidding Auctions of Rare Worldwide Stamps and Postal History.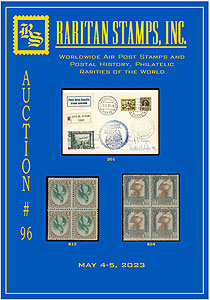 Our Company specializes in Russian stamps and covers all historical periods and regions, including philatelic material of Armenia, Azerbaijan, Baltic States, Georgia, Russian Finland, Poland, Tannu Tuva, Ukraine.
We provide professional expert opinion, appraisal, and consultation regarding Russian Imperial stamps, including Zemstvo, as well as RSFSR, Soviet Union stamps, and postal history.
Follow RARITAN STAMPS, Inc. on
Facebook
ABOUT AUCTION
Our Philatelic Auction features approximately 1500 individual lots and collections, including comprehensive and specialized Russian stamps and postal history, elusive British Commonwealth stamps, a wide selection of Asian philatelic material, nice quality stamps and covers from Eastern and Western European countries, worldwide Zeppelin and Pioneer Flights covers and cards.
Live Bidding Auction #96 of "Worldwide Air Post Stamps and Postal History, Philatelic Rarities of the World" was held on May 4-5, 2023.
The Sale contained 1368 lots and represented the property of 24 owners.
Highlights of this Auction were:
* Over 200 lots related to Worldwide Air Post, including Pioneer and Zeppelin Flights items of various countries;
* Beautiful selection of US and Canada Proofs, Errors and Multiples;
* British Commonwealth with beautiful range of various Kings George V, George VI and Queen Elizabeth II items;
• Rarities of China of all regimes, including Mei Lan-fang souvenir sheet and a dozen other valuable items;
* Strong French, German and Italian material;
* Valuable Eastern European countries single lots and collections, including Bulgaria, Czechoslovakia, Hungary, Poland, Romania and Yugoslavia;
* Russian Area includes nice Imperial material with valuable die proofs and several very interesting Postal History Collections, valuable Soviet Union representing perforated and imperforate varieties from 1930's to 1990's, nice and fresh Semi-Postal, Air Post and Back of the Book items, as well as interesting Local Issues of the Civil War Period;
* Classic Ukraine representing a strong range of various Trident Overprints of many postal districts and Ukrainian DP Camps of the World War II;
notable items from Dr. Seichter, Dr. Zelonka, and other renowned Collections.
* Worldwide Thematic Philately and Collections as well as various Chess Competition lots.
The "About Auction" section contains a detailed description of the Current Auction and all necessary information, including Conditions of Sale, Auction Schedule, Bidding Process, and Methods of Payment.
Prices Realized, and Catalogues of the past several Stamp Auctions are posted in this section as well.
CURRENT AUCTION CATALOG
This section contains detailed descriptions of the Auction Lots with full-color images and current bids.
View Auction Lots.
THE LIVE AUCTION
THE LIVE BIDDING AUCTION will take place in our Cranbury office, New Jersey. We provide a real-time bidding process on several telephone lines and the Internet simultaneously. If you wish to participate in our Live Auction via Internet, please CLICK HERE for details. If you prefer to bid via telephone, please, CONTACT US in advance.
You can enter the Live Auction only the day and time when it takes place. Live Bidding Auction #97 will be held on the August 3-4, 2023. All other times, please refer to the ABOUT AUCTION section.
Enter the LIVE AUCTION.
VENDOR INFORMATION
We always accept worldwide collections, accumulations, single rare stamps, and postal history for consignment.
All we take is a 10% sales commission. There are no charges for unsold lots.
We can offer prompt settlement and interest-free advance payment up to 50% of the Estimate.
If you would like to get more information, please refer "Sell with us" section.
STAMP MAIL ORDER
Make an addition to your stamp collection right now using our PRICE LISTS section. There are Price Lists of Russian and Soviet Union Stamps of 1858-1991, North Korean of 1946-90, and Vietnamese Stamps of 1951-95.
Click here to make a STAMP ORDER.
ABOUT US




Our Company was established in January 1998. We have been the worldwide leading dealers in Russian stamps and postal history for more than twenty years.
Philatelic professionals of Raritan Stamps, Inc. are ASDA, APS, NSDA, IFSDA, Rossica, BSRP, UPNS members in good standing.
The more detailed information about our Company you can find in the "ABOUT US" section.
MY ACCOUNT
If you would like to participate in our Stamp Auctions and receive a complimentary copy of our current catalog, please REGISTER HERE.
As a Registered Customer, you can:
control e-mail notification regarding future Auctions and e-bay Sales,
manage your catalog subscription,
upload or correct your personal information in secure mode at MY ACCOUNT Section.